Been a little bit since my last entry here and thought I should sit down and hammer something out. I had nothing to do today and I thought it would be a great time to sit down and "catch up".
So…the racing season here in Jersey has basically started back up and I, along with perpetual racing partner Sparky and last minute guest Chris Akulis made the journey to New Egypt for their opener. We pretty much didn't know what to expect from the racing surface since it was laid down just a few weeks back and conventional wisdom has always said to lay down new clay at the end of a season so that it has time to become one with what was already there. I have always liked to use the term "knit" with the existing track. This new stuff at New Egypt was nowhere close to ready to do such a thing! Not that it is bad clay…that remains to be seen, but rather, it should have been applied much sooner than it had been.

Now, I can give the brass somewhat of a pass on this entire mess (and mess is what it turned out to be) if the reason why they didn't put down new clay last year is because of the amount of extensive work that they had planned for the track for the '13 season. After all, they did install a new underground watering system for the track and that required quite a bit of digging up of the surface. Also, they had quite a bit of heavy equipment on the track for a while as they installed a huge amount of telephone pole type poles to mount a continuing high fence around the speedway from turn one all the way to turn four. With that in mind…I am thinking this is why they chose to roll the dice and hold off on putting new clay down. Just my opinion. But honestly, I can't think of any reason other than this that could be plausible.
To say that the track came up rough is an understatement. It was, in a word…brutal! That being said, I will say that the sixty lap Cabin Fever feature event still was a great and entertaining race. Congrats to Jimmy Horton for fighting off the competition, as well as the surface to survive the grind and take the win. It wasn't for lack of competition. Reigning track champ Ryan Godown and Billy Pauch both gave him fits along the way with both suffering some tough luck due to track conditions. Pauch left with a shock mount busted up and Ryan suffered a flat or two, but did return and salvaged a third place out of the day.

The entire situation surrounding New Egypt has been in turmoil since they announced the dropping of the big block modifieds for spec motor small blocks. Me personally, I don't think it is going to matter as far as competition. I still think the racing is going to be great…the question right now is how many cars are going to compete weekly? Right now, it seems as if they are looking at numbers in the low twenties or slightly more. A complete field for a feature…but at these numbers…heat races won't mean as much. This could be the reason why they have instituted some new factors regarding heat races. Could make it interesting. Some drivers have defected to Bridgeport under the helm of new promoters Keith Hoffman, Dave Adams and also helping things along is Danny Serrano who was the general manager of New Egypt before being given the boot. At least a handful of drivers making the switch are due to them not having a spec motor in their arsenal and not wishing to spend the money to purchase one. They had their big blocks and could use them at the spacious 5/8ths at Bridgeport without putting out major bucks to do so. I wish them all well as well as the new crew running the show there.
I am psyched to see that Willie Osmun will be behind the wheel of a Black Horse Racing #81 this season. Long time race fans simply cannot escape the fact that Willies father Billy used to run the Black Horse Racing effort for the Tony and John Norcia effort and this thing reeks of nostalgia. Billy "O" and now Willie "O" will be running this ride. The Norcia's daughter Andrea is now in charge of things. The team was supposed to hit the ground running last season with Brian Godown behind the wheel, but circumstances just kept the car in the garage and it never appeared. Over the winter, the pairing split and into the seat moved Willie Osmun. The car is actually Willies mount from last year with Black Horse skin on it. I can't wait to see this car back on the track. It will be an awesome sight.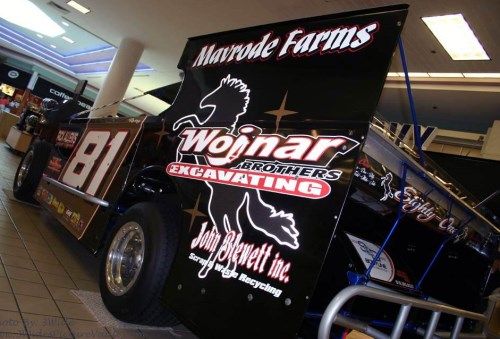 I can't wait to see the Norcia #81 back on the track after years and years of absence from the Jersey racing wars! Photo courtesy of Joe McFarlan and his 3 Wides Picture Vault
Things have really changed for me personally over the past few months. Some good and some bad. The good…well, I have now joined the ranks of the happily unemployed…as in RETIRED! It is great. I am spending so much time up in my woodworking shop and just getting so much done that I know would not have gotten done had I still be working as an industrial and commercial insulator. Have been taking up a lot of slack around the home to lessen the load of my lovely wife as she still has to work for a few more years before she can join me. I look forward to that. In the meantime…I look forward to having the free time to pursue other things such as fishing. Purchase a replacement boat just recently to go bass fishing and just this morning my brother and I got out on a local reservoir to get some fishing time in and we chatted about the fishing trips that we will be enjoying together sometime soon after he retires in a handful of months. Life is good and I am truly not missing working for a living.
As for things not so good…well, I guess this is really the first place that I have publicly said anything, but I am facing some serious health stuff coming up very soon. We have known this possibility was coming sooner or later and it looks like it now has to be addressed. I have always had a heart murmur. Turns out that the murmur has been caused by a slight abnormality with my aortic valve. A normal heart valve has three flaps that open and close to allow blood to either flow into or out of the heart. My aortic valve has just two laps. That in itself is not the big problem. The big problem is that I have developed aortic stenosis. The valve is not opening and closing quite properly and it is allowing blood to "backwash" back into the heart when it should be directed out through my body. Hence the murmur.

The last few months of my career…I noticed that I was getting very winded very easily. My cardiologist told me that I would know when it would be time to come back to see him and I knew that this was what he was talking about. Very shortly after I retired at the end of January, I made an appointment to see him and after further testing…it appears that an operation is nigh. My situation has been categorized as critical. So, it looks like open heart surgery to replace the aortic valve is coming very soon. In fact, this week we consult with the actual surgeon that will be doing the surgery and I hope to schedule the date that day.
I am told that I will be spending about five days in the hospital and then a good month of nothing but easy going at home before I can think about slowly resuming a normal life. Not sure how many weeks of racing I am going to miss, but I hope to keep it around three or four and then get back to the bleachers with my buds.
So, yeah..a lot of things are going on in my life right now. I am trying to enjoy my retirement as much as I possibly can…but I know that once this heart deal is behind me…I will enjoy it even more. Just want to put it in the rearview mirror so to speak. Not sure if this will be the last effort before my operation, but with the amount of time I will have on my hands afterward…I imagine I will be checking in sometime during my rehabilitation afterwards. Keep me in your thoughts.